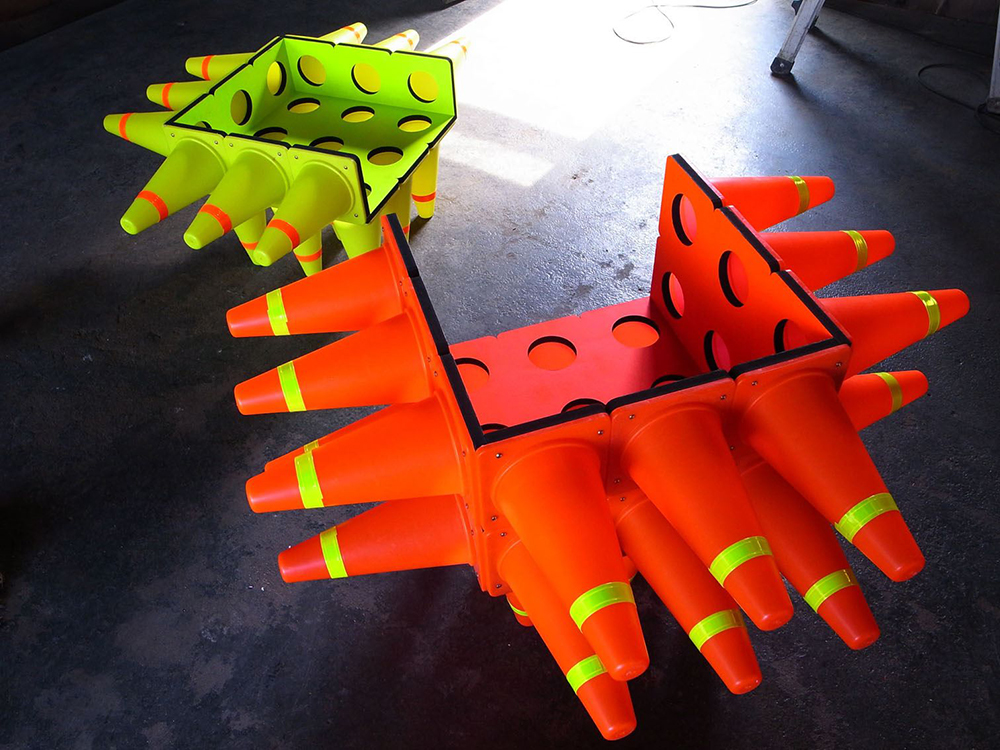 CONICONI
SPACE FURNITURE
CONICONI in Italian means "with the cones" and with 149 street cones MOTOElastico built 2 armchairs and a triangular room for the grand opening of the CCUL Lounge-Art-Space.
Cones usually define work in progress, men-at-work and not yet completed tasks.
Our furniture design is not yet furniture, but it has a warning of potential. Its high visibility makes the incomplete chair something more than a chair, stretching its dimensions towards a potential throne.
Architecture, art and design push things beyond what they normally are; the cones of our chairs are marking those dangerous borders we all encourage to trespass.

CONICONI 는 "콘과 함께"라는 뜻이다. 모토엘라스티코에서는 복합문화공간 꿀의 개관을 위해 도로용 칼라콘 149개를 이용하여 2개의 안락의자와 삼각형 방을 만들었다.

그것들은 현재 진행되는 일, - 공사 중 -, 그리고 아직 완수하지 않은 과제를 나타낸다. 우리의 가구 디자인은 아직 가구가 아니다. 하지만 잠재성에 대한 주의를 준다. 의자가 지닌 뛰어난 가시성은 미완성의 의자가 의자를 넘어선 그 무언가로 거듭나고, 차원을 넘어 왕의 의자로의 가능성을 보여준다.

건축, 미술, 그리고 디자인은 사물을 그 원래의 모습에서 더 나아가도록 밀어붙인다; 우리 의자들의 콘들은 우리 모두가 무단침입을 하도록 바람을 넣게 되는 바로 그 위험한 경계를 표시해준다.


Project: MOTOElastico
Design Team: Simone Carena, Marco Bruno, Minji Kim, Jihyun Hong
Location: CCUL LOUNGE, Seoul, 2010
Photo by: MOTOElastico
Published on: Interiors, Korea, 2010 + Maison, Korea, 2010 + art in culture, Korea, 2010