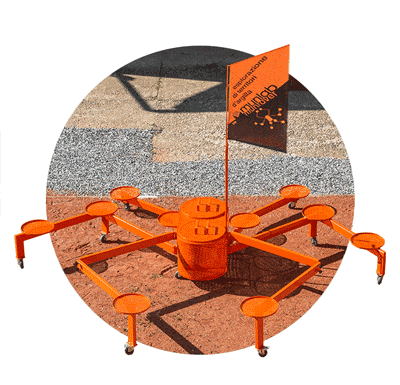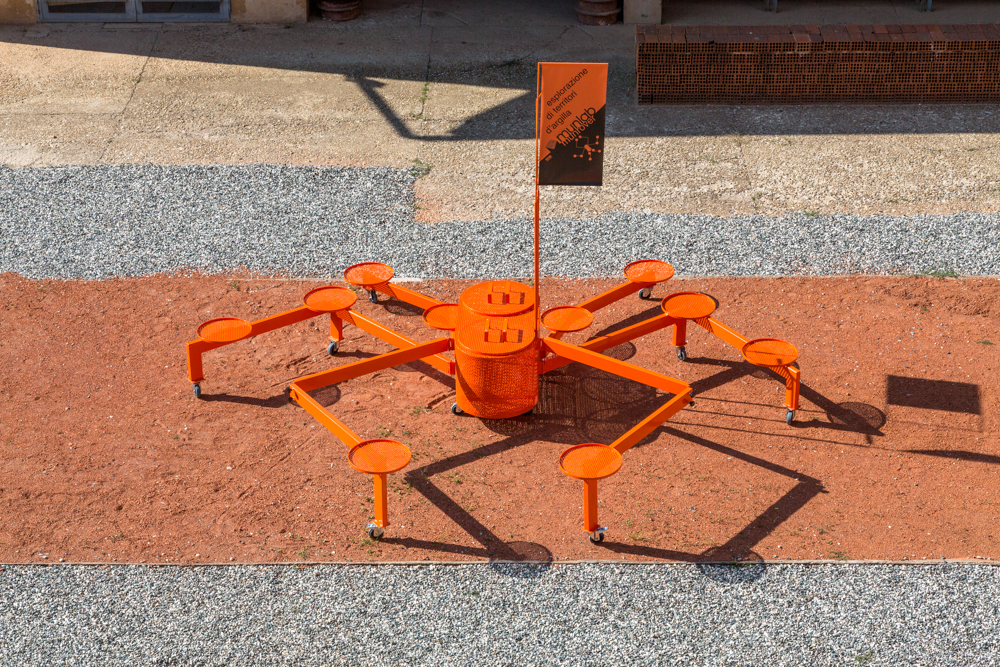 Munrover
ALL TERRAIN EXHIBITION UNIT
The Munrover is a portable exhibition unit designed for the Munlab, a Clay Ecomuseum located in Cambiano, near Torino. It is an energy independent and collapsible display device that can adapt, due to the flexibility of its six arms, to different terrains.

The Munrover was inspired by the self-reliant exploration devices that were recently landed on Mars. Rather than reaching other planets and collecting samples like a Mars Rover, the Munrover reaches people and disseminates the results of the Ecomuseum Team explorations. The Munrover is designed around a main body made of perforated metal used to store both the objects on display and the exhibition gears. The gears include a computer, two digital screens, lights, two solar panels, flags, metal poles and few extra display disks. Six legs with different length and adjustable stoppers are hinged to the main body; they allow multiple space configurations to better fit the conditions of each site/terrain. The legs are completed by ten disks in perforated metal used to display the objects.

When fully deployed in outdoor locations, the main body of the Munrover is powered by the solar panels and is completely self-sufficient. Once exhibitions are over, the unit fully collapses and it can be easily moved to a different location on the flatbed of a small truck.
문로버는 토리노 근처 캄비아노에 위치한 클레이 에코 박물관 문랩를 위해 설계된 휴대용 전시 장치이다. 6개의 유연한 팔 덕분에 여러 다른 지형에 적응이 가능하며, 에너지 독립적인 접이식 디스플레이다.

문로버는 최근 화성에 착륙한 자립 탐사 장치에서 영감을 받았다. 문로버는 다른 행성에 다가가 샘플을 수집하는 화성탐사로봇 마스 로버와는 달리, 문로버는 사람들에게 다가가 에코 박물관팀의 발견을 전파한다. 문로버는 전시물과 전시 장비를 모두 보관할 수 있는 타공철판 몸통으로 이루어져 있다. 이 장비에는 컴퓨터, 2 개의 디지털 스크린, 조명, 2 개의 태양 전지판, 깃발, 금속 기둥 및 여분의 추가 디스플레이 디스크가 포함된다. 조절 가능한 스토퍼를 지닌 각기 다른 길이의 6개의 다리는 본체와 힌지로 연결되어 있다. 덕분에 여러 조건과 대지 상황에 맞추어 다양한 공간을 구성이 가능하다. 다리는 타공철판으로 마감된 10 개의 물건 전시용 디스크로 완성된다.

완전히 오픈된 실외공간에서 사용할 경우, 문로버는 태양 전지판으로 온전히 자립하여 본체를 구동할 수 있다. 전시가 끝나면 장치를 접어서 소형 트럭에 가뿐히 실어서 손쉽게 다른 곳으로 이동할 수 있다.


Project by: MOTOElastico
Design Team: Simone Carena, Marco Bruno, Cesario Carena, Elena Carena, Andrea Caretto, Raffaella Spagna
Location: Munlab, Ecomuseo dell'Argilla, Cambiano, Torino, Italia, 2017
Fabrication: Giorgio Barison
Materials: steel frame, perforated metal
Photo Credit: Beppe Giardino, Fondazione Spinola Banna per l'Arte